MD-500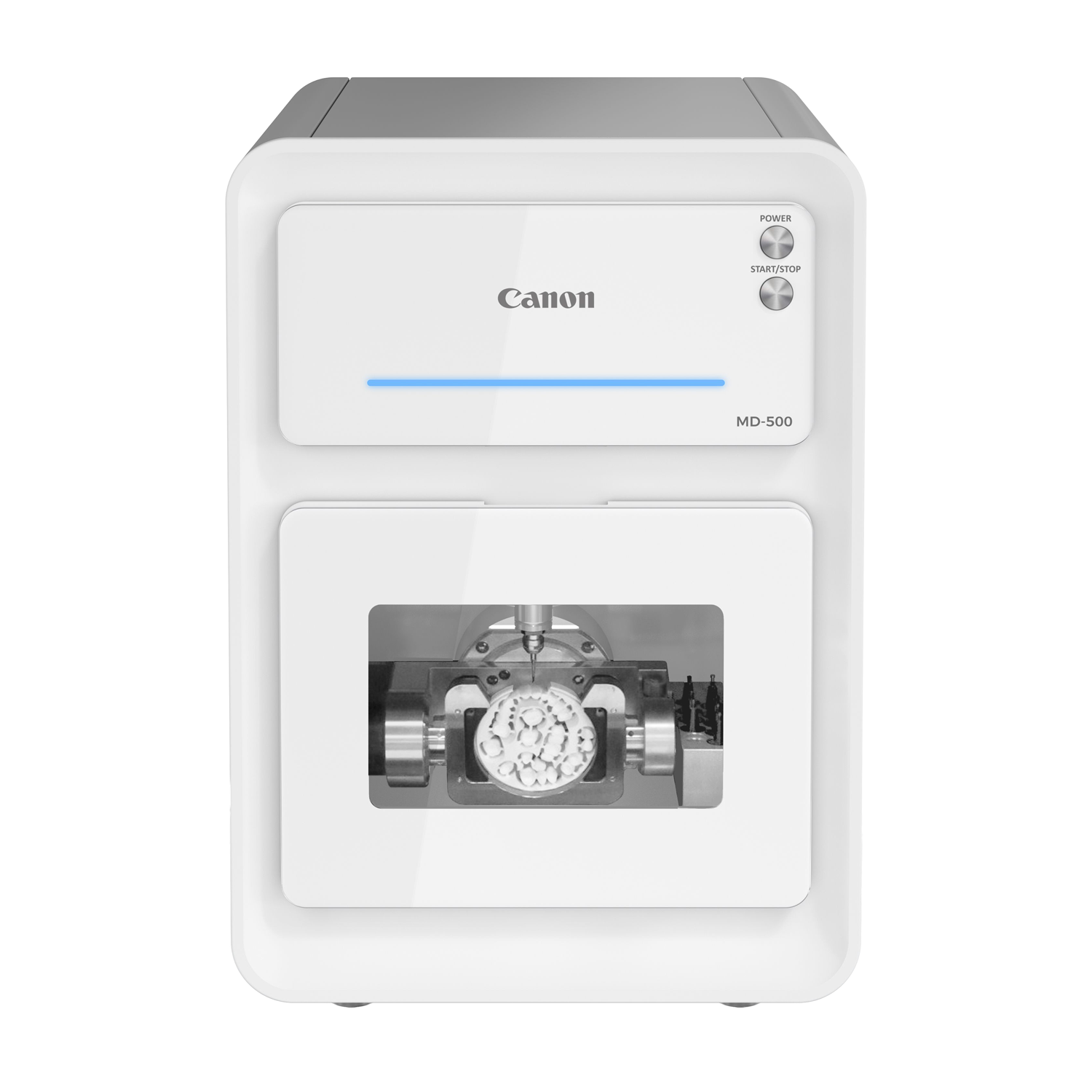 Five-axis controlled milling machine based on industrial manufacturing products, it assures high-speed and highly accurate machining.
Confirm your status.
Are you a medical professional?
Our website content that you have accessed to includes the information of PMD Act for medical professionals. This is on closed access except for the medical professionals.

※ If you are not the medical professional, back to our website's homepage automatically.
High rigidity

A single frame base with the X, Y, and Z axes provides high rigidity.
A combination of spindle with the fixed holder minimized fluctuation at the drill tip.
Linear guides and ball screws enable precise positioning and stable milling.

No calibration required

High accuracy linear guides and ball screws for the X, Y, and Z axes and high accuracy decelerators for the A and B axes contribute to the reduction of displacement; as a result, no calibration is needed.

Highly accurate milling

Highly accurate milling makes margin lines thin. It significantly reduces the operation time required for hand finishing by a dental technician.

Holder chuck system for high gripping force

A milling tool is secured by holder chuck system with a nut for high gripping force. This chuck system also reduces vibration from tool rotation, resulted in highly accurate milling.

Compatible with a zirconia disc and blocks

Various sizes of a zirconia disc/blocks up to 12 can be milled with a dedicated jig to maximize milling efficiency.
The C-shaped clamp is a disc frame holder having an opening. From the opening, the milling tool can directly process the interproximal area of frontal teeth, which improves more esthetic appearance.

Automatic Tool Changer (ATC)

MD-500 equips ATC which changes 10 milling tools automatically. It makes smooth transition between different milling tasks.

Stylish design

A large LED indicator and transparent window visualize work in progress. Stylish white and silver color of the machine enhance the beauty of the interior of dental laboratory.
(Winning 2019 GOOD DESIGN BEST 100 award in Japan, and iF DESIGN AWARD 2021 in Germany)

Original control application (md-gear)

The original application (md-gear) can provide a user-friendly screen on a computer display, which meets the various needs of dental laboratories such as rearranging the milling orders and extracting unfinished work.

Specifications

MD-500

Installation/operation conditions
Indoor (no vibrations)
Room temperature: 0℃ to 40℃ (32℉ to 104℉)
Humidity: 20 to 75% RH (no condensation)
Milling conditions
Dry milling
Dimensions
500 mm (W) x 740 mm (D) x 680 mm (H) Excluding adjuster
Main unit weight
110 kg
Number of control axes
5 (X, Y, Z, A, and B)
A/B-axis range
A-axis: ±360°, B-axis: ±30°
Millable material
Zirconia, Wax, PMMA, PEEK, Hybrid Resin
Compatible blocks
Blocks for dental milling Universal type (Dia 6mm)
Maximum number of blocks
12
Maximum block dimensions
15 mm x 15 mm x 18 mm (when using 12 blocks)
Maximum block length
85 mm
Compatible discs
Discs for dental milling
Disc dimensions
98.5 mm (diameter) x 10 to 35 mm (thickness)
Spindle
Rotation speed
5,000 to 60,000 rpm
Output power
0.35 kW
Cooling system
Air cooling
ATC
Clamping method
Holder chuck type
Milling bur length
45 to 60 mm
Shank diameter
4 mm, 6 mm
Milling tool storage count
10
Feed speeds
Cutting feedrate Maximum: 5 m/min (X, Y, and Z axis)
Rapid traverse Maximum: 15 m/min (X, Y, and Z axis)
Utilities
Power supply
220 VAC, 8 A 100 VAC, 15 A
Air
Air pressure: 0.6 to 0.7 MPa, Air ­ow: 60 L/min
Connection port: Dia. 6 mm air tube
Remove foreign material and moisture using a filter and air dryer.

※The specifications described are subject to change without notice for improvement.

Instruction manual

Please refer to the "Instruction manual" for details.

Cleaning guide

Please refer to the "Cleaning guide" for details.

How to resolve the error message

Please refer to the "Solutions to errors and problems" for details.
Product Inquiry

For inquiry about this product