DR-M140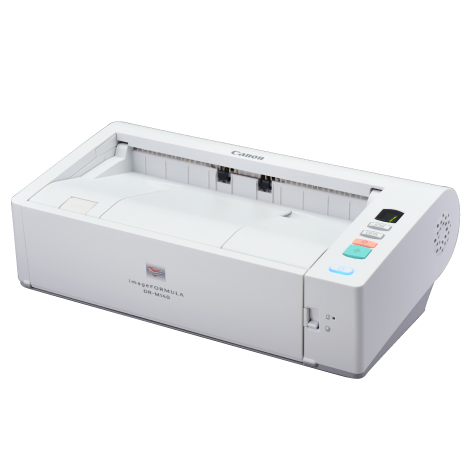 The Canon imageFORMULA DR-M140 document scanner is a compact and versatile solution to help reduce paperwork and improve workflows. With an out-of-the-box design, reliable handling, and advanced image quality functions, the DR-M140 is a performance-driven device that provides the basis for an intelligent document capture system.
Features

Use the U-turn document path and control panel to conveniently perform all operations necessary for basic scanning tasks from the front of the scanner.
Switch to the straight path to scan embossed cards and delicate documents. The DR-M140 delivers outstanding user-friendliness and versatility in a remarkably compact body.

Fast, High-Quality Scanning

Rapid scanning

An improved CMOS contact image sensor unit enables the DR-M140's fast 40 ppm / 80 ipm scanning. Color documents can be scanned just as quickly as in B&W, and double-sided documents are scanned in one pass.

Simplex
Duplex
B/W,Grayscale
Color
B/W,Grayscale
Color
200dpi
40
40
80
80
300dpi
40
40
80
80

Small But Versatile

U-turn/straight path options

Feed and eject documents using only the space in front of the scanner with the U-turn path, or use the straight path to scan cards, thick documents, and other documents sensitive to bending. Switching between the document paths based on document type is quick and easy.

Compact and user friendly

The scanner's compact body saves valuable desk space and fits easily on countertops and other narrow spaces.
Full front side operability, including the ability to feed and eject documents from the front of the scanner, offers the ultimate in user-friendly scanning.

Card scanning

You can scan plain plastic cards and embossed cards* (e.g., credit cards) alike, and even scan mixed document batches that contain both cards and paper documents.

* Up to three plain cards can be scanned at one time. Embossed cards must be scanned one at a time.

Functions

Reliable document feeding

Canon's reliable page separation mechanism provides smooth feeding of a wide variety of document sizes and weights.
Features such as Ultrasonic Double Feed Detection and Rapid Recovery further ensure dependability by making sure each and every page of a batch is scanned.

Various functions to improve scanning efficiencies and qualities

Wide range of intelligent image processing functions are equipped.
Please refer to the "Image processing functions" page for details.

Bundled Software

CapturePerfect and CaptureOnTouch are both capture application software for the DR scanner series.
Each of the software can be selected and used, depending on the usage and workflow.
Please refer to the "Software" page for details.

Kofax VirtualReScan Basic

Kofax VirtualReScan BasicThe leading image processing software, Kofax VRS Basic, improves readability for multi-size documents of varying degrees of quality. Automatically straighten skewed pages without character degradation, optimize a document's brightness and contrast levels, and eliminate background noise and speckling.

Specifications

Type
Desktop sheetfed scanner
Scanning document size
Plain paper
Width: 50.8 mm to 216 mm (2″ to 8.5″)
Length: 54 mm to 356 mm (2.12″ to 14″)
Business card
50.8 mm x 85 mm (2.00″ x 3.35″) or larger
Card
54 mm x 86 mm (2.12″ x 3.37″) (ISO standard)
Long document
Up to 3,000 mm (118.1″) long
(up to 2,700 mm (106.3″) on 600dpi)
Scanning document thickness
Plain paper
Straight path: 27 to 255 g/m2 (7 to 68 lb bond)
0.04 mm to 0.3 mm (0.00157″ to 0.0118″)
U-turn path: 27 to 128 g/m2 (7 to 34 lb bond)
0.04 mm to 0.15 mm (0.00157″ to 0.0075″)
Business card
128 g/m2 to 380 g/m2 (34 to 80 lb bond) ,
0.15 mm to 0.45 mm (0.0075″ to 0.0177″)
Orientation: Vertical feeding only
Card
0.76 mm (0.03″) or less
(1.4 mm (0.55″) or less for embossed cards)
Eject method: Straight path only
Orientation: Vertical or horizontal feeding
(only vertical for embossed cards)
Loading capacity: 3 cards (non-embossed), 1 cards (embossed)
Feeding capacity
Up to 50 sheets of 80 g/m2 or 10 mm stack (including curls)
Scanning sensor
Contact image sensor
Light source
LED
Scanning side
Simplex/duplex
Scanning modes
Black and White, Error Diffusion, 256-level Grayscale, Advanced Text Enhancement, Advanced Text Enhancement II, 24-bit Color
Scanning resolution
150 x 150dpi/200 x 200dpi/300 x 300dpi/400 x 400dpi/600 x 600dpi
Scanning speed 1)
B&W, Grayscale
Simplex:
200dpi 40 pages/min.
300dpi 40 pages/min.
Duplex:
200dpi 80 images/min.
300dpi 80 images/min.
24-bit color
Simplex:
200dpi 40 pages/min.
300dpi 40 pages/min.
Duplex:
200dpi 80 images/min.
300dpi 80 images/min.
Interface
Hi-Speed USB 2.0
Other functions
Folio scanning, Ultrasonic double feed detection, Double feed Release
External dimensions with trays closed (W x D x H)
313 mm (12.32″) (W) x 181 mm (7.13″) (D) x 93 mm (3.66″) (H)
Weight
(without AC adapter)
Approximately 2.6 kg (5.51 lb)
Power requirements
AC100 to 240 V (50/60Hz)
Power consumption
Scanning: maximum 25 W
In the sleep mode: maximum 1.9 W
With power switch OFF: maximum 0.5 W
Noise
Not more than 56 dB
Operating environment
Temperature: 10°C to 32.5°C (50°F to 90.5°F), Humidity: 20% to 80%

1. Actual scanning speed may vary depending on your system configuration and PC.
Specifications are subject to change without notice.

Microsoft, Windows, Windows Vista, PowerPoint and SharePoint are either registered trademarks or trademarks of Microsoft Corporation in the United States and/or other countries.
Adobe, the Adobe logo, Acrobat, the Adobe PDF logo, and Adobe Reader are either registered trademarks or trademarks of Adobe Systems Incorporated in the United States and/or other countries.
Kofax, the Kofax logo, and other Kofax marks are registered trademarks or trademarks of Kofax, Inc. in the United States and other countries, and used under authority from Kofax.
Other company names and product names appearing in this brochure are the registered trademarks and/or trademarks of their respective owners.