DR-G2140 / G2110 / G2090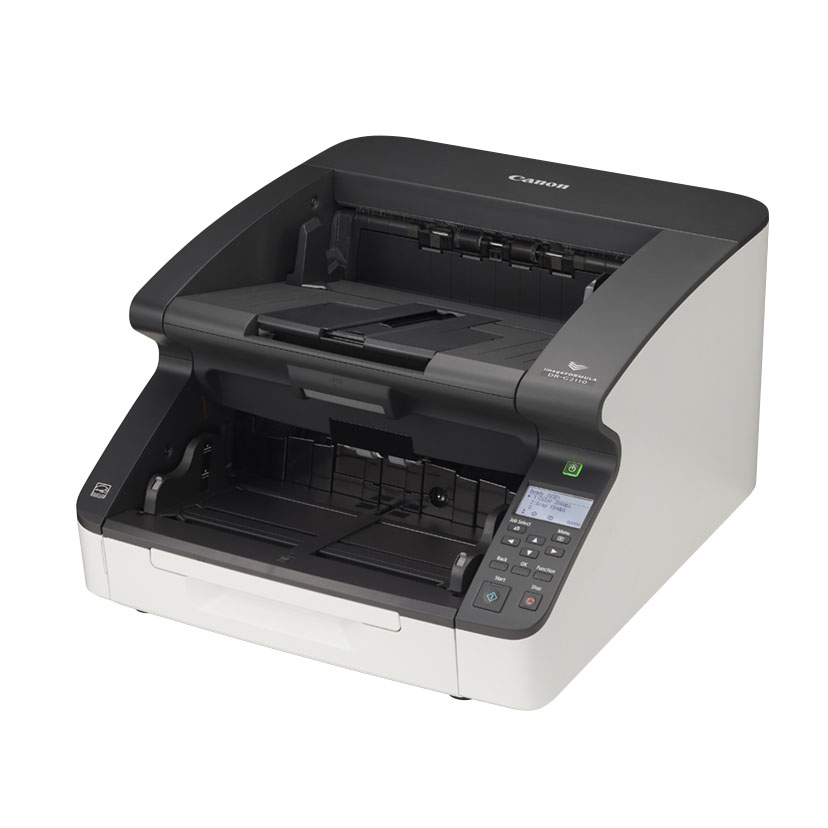 Presenting the new Canon imageFORMULA DR-G2140/G2110/G2090 – fast, precise A3 production scanners capable of high-volume output with enhanced processing speed and reliability for unparalleled performance.
Features

Improving Productivity

The DR-G2140/G2110/G2090 scanners offer accelerated batch processing. They feature improved productivity of document conversions by shortening the time needed for scanning and processing, with the DR-G2140 capable of delivering 140 pages of high-speed scanning per minute*. In addition, the modified roller material has increased its durability from the one for previous scanner models.

*Landscape A4 sized sheets at 200 dpi in color/B&W.

Smooth and Reliable

Integral to Canon's highly reliable, stable feeding mechanism, the advanced and unique Ultrasonic Double-Feed Detection and Rapid Recovery features deliver smooth document scanning. A solid-body design, heavy-duty feed and eject trays, and staple detection capability are just some of the features that ensure minimal downtime and help to maintain business continuity.

Engineered for speedy document scanning

*A4 sized sheets at 200dpi

B&W
SPEED
COLOR
SPEED
AUTOMATIC
DOCUMENT FEEDER
DR-G2140

Portrat
110 ppm
110 ppm
500 sheets
Landscape
140 ppm
140 ppm
DR-G2110

Portrat
90 ppm
90 ppm
500 sheets
Landscape
120 ppm
120 ppm
DR-G2090

Portrat
75 ppm
75 ppm
300 sheets
Landscape
100 ppm
100 ppm

Various-sized document feeding

The DR-G2140/G2110/G2090 scanners deliver smooth, jam-free feeding of documents in mixed batches and non-standard documents ranging in size from business card size to A3 (11×17 in.)*. Active Torque Control adjusts roller torque to accommodate otherwise difficult-to-feed paper types, such as especially thin or thick documents. Three separation modes are available to enable scanning of thin or coated paper types that were previously difficult to feed.

* Up to A1 594 mm x 841 mm using Folio scanning method and Long Document Mode (maximum length of 5,588 mm)

Shading mechanism

To ensure consistent image quality, the DR-G2140/G2110/G2090 performs an automatic calibration process called shading prior to each scan job. In an all-new mechanism that provides protection against dust, the image sensor shifts to calibrate itself against a special white shading surface that's affixed directly on the sensor glass.

3-line CMOS image sensor technology

3-line CMOS sensor technology is responsible for unmatched image sharpness and tonal accuracy. Processed images are scanned quickly and have exceptional color reproduction, true to the original document and free of unwanted color staining.

High volume feeder

Each scanner is equipped with a motorized paper feed tray that adjusts height position relative to volume. The DR-G2140/G2110 have a maximum capacity of 500 sheets. (The DR-G2090 supports up to 300 sheets.)

Network scanning via wired LAN connection

Share a single scanner via a network to perform scanning tasks efficiently.
Select any connected computer from the scanner's operation panel and perform scanning.
Scanning can also be executed from any computer sharing the scanner via the network.
You can save scanned data to specified storage locations, attach scanned data to emails for
sending, and perform various scanning operations according to the scan settings configured on each computer.

Functions

Simple, Clear Scanning

During document conversion, high image accuracy and quality are important to minimize error rates, achieve regulatory compliance, and increase the ease of document integration and retrieval. The DR-G2140/G2110/G2090 scanners offer a collection of invaluable image capturing and processing functions for various types of documents that optimize readability and minimize reprocessing.

Enhanced Efficiency

Centralized scanning solutions – operated by a limited number of dedicated and trained individuals – enable companies to spend less time processing, retrieving, and searching for paper documents and can help facilitate collaboration throughout the organization. The DR-G2140/G2110/G2090 scanners are equipped with an easy-to-use Control Panel and Job Key as well as a Document Feed Tray that adjusts to the height of the paper batch. All these features are designed to deliver unattended batch scanning for optimizing workflows and improving productivity.

Ultrasonic double feed detection

For extra protection against double feeds, this DR series is equipped with an ultrasonic sensor that can detect the gap between overlapping pages and prevent them from going through the scanner at the same time.

Various functions to improve scanning efficiencies and qualities

Wide range of intelligent image processing functions are equipped.
Please refer to the "Image processing functions" page for details.

New Binarization – ActiveThreshold

The DR-G2140/G2110/G2090 has new binary processing function, which realizes the texts reproduction & decreasing noise from dirty paper

Equipped with new CIS and DR processor

High-speed scanning is achieved via the adoption of a new CIS with maximum speeds of up to 140 sheets / 280 faces per minute. The DR processor makes high-speed, high-quality image-processing possible.

Steple detection

Canon's Staple Detection feature automatically halts the scanning process if an unremoved staple is found, as staples can cause scanning errors that compromise the document or damage the machine.

Intuitive control panel featuring Job Key

Start and stop scanning, check display messages, and make selections using the scanner's control panel. The button configuration is ergonomically designed to make job execution an easy endeavor. For example, the Job Key allows the operator to select from up to 99 preregistered scan jobs. Jobs are assigned using the included Job Registration Tool.

Manual Feed mode

Manual Feed mode allows you the option of manually loading sheets of a document for processing.

Bundled Software

CaptureOnTouch is a capture application software for the DR scanner series.
Please refer to the "Software" page for details.

Specifications

Type
Desktop sheet-fed scanner
Document feeding
Automatic or manual sheet feeding
Document size
Width: 50.8 – 305 mm (2.0 – 12.0 in.)
Length: 70 – 432 mm (2.8 – 17.0 in.)
Long Document Mode
DR-G2140
DR-G2110
DR-G2090
Up to 5,588 mm (220 in.)
Up to 3,000 mm (118.1 in.)
Document thickness and weight
Continuous Feeding: 20 – 209 g/m², 0.04 – 0.25 mm (5 – 56 lb bond)
Non-Separation Mode: 20 – 255 g/m², 0.04 – 0.3 mm (5 – 64 lb bond)
Feeding capacity
DR-G2140
DR-G2110
DR-G2090
48 mm stack or 500 sheets of 80 g/m² (20 lb bond)
300 sheets of 80 g/m² (20 lb bond)
Scanning element
3-line CMOS CIS
Light source
LED (Red, Green, and Blue)
Scanning side
Simplex/Duplex
Scanning modes
Black and White, Error Diffusion, Advanced Text Enhancement, Advanced Text Enhancement II, Active Threshold,
256-level Grayscale, 24-bit Color, Auto Color Detection, Long Document, Manual feeding, Separation Hi, Separation Low, Non Separation
Scanning resolutions
100 x 100 dpi, 150 x 150 dpi, 200 x 200 dpi, 240 x 240 dpi, 300 x 300 dpi, 400 x 400 dpi, 600 x 600 dpi
Scanning speed*
(A4, 200dpi, Landscape)
DR-G2140
DR-G2110
DR-G2090
B&W
140 ppm (Simplex)/280 ipm (Duplex)
120 ppm (Simplex)/240 ipm (Duplex)
100ppm (Simplex)/200ipm (Duplex)
Grayscale
140 ppm (Simplex)/280 ipm (Duplex)
120 ppm (Simplex)/240 ipm (Duplex)
100ppm (Simplex)/200ipm (Duplex)
Color
140 ppm (Simplex)/280 ipm (Duplex)
120 ppm (Simplex)/240 ipm (Duplex)
100ppm (Simplex)/200ipm (Duplex)
Scanning speed
(LTR, 200dpi, Landscape)
B&W
140 ppm(Simplex) / 280 ipm(Duplex)
110 ppm(Simplex) / 220 ipm(Duplex)
90 ppm(Simplex) / 180 ipm(Duplex)
Grayscale
140 ppm(Simplex) / 280 ipm(Duplex)
110 ppm(Simplex) / 220 ipm(Duplex)
90 ppm(Simplex) / 180 ipm(Duplex)
Color
140 ppm(Simplex) / 280 ipm(Duplex)
110 ppm(Simplex) / 220 ipm(Duplex)
90 ppm(Simplex) / 180 ipm(Duplex)
Interface
DR-G2140
DR-G2110
DR-G2090
USB3.1 Gen1, 10Base-T/100Base-Tx/1000Base-T
USB3.1 Gen1
Scanner driver
ISIS/TWAIN
Useful functions
Job Function, Ultrasonic Double-Feed Detection, Staple Detection, Text Enhancement, Dropout and Color Enhancement, Auto Page Size Detection, 3-D Color Correction, Image Rotation, Skip Blank Page, Edge Emphasis, Moiré Removal, Prevent Bleed Through / Remove Background, Contrast Adjustment, Shading Correction, Brightness Adjustment, Deskew, Border Removal, Scanning Side Selection, Scan Area Settings, Addon Settings, Text Orientation Recognition, Punch Hole Removal, Folio Scan, Unnecessary dots removal, Notch removal, Background Smoothing, Character Emphasis, Count Only Mode, Verify Scan, Rapid Recovery System, MultiStreamTM
Power requirements
AC 100V (50/60Hz), AC 120V (60Hz), AC220-240V (50/60Hz)
Power consumption
66.5W (Scanning), 3.5W (Sleep mode)
Operating environment
10 – 32.5°C (50 – 90.5°F), Humidity: 20 – 80% RH
Dimensions
(W x D x H)
Feed trays closed: 480 x 569 x 315 mm (18.9 x 22.4 x 12.4 in.)
Weight
Approx. 25 kg (55.1 lb.)
Options/Consumables
Imprinter Unit, Exchange Roller Kit, Separation Pad, Imprinter Ink Cartridges, Flatbed Scanner Units

*Scanning speed may vary depending on PC environment, scanner settings, and other factors.
Specifications are subject to change without notice.