CR-190i Ⅱ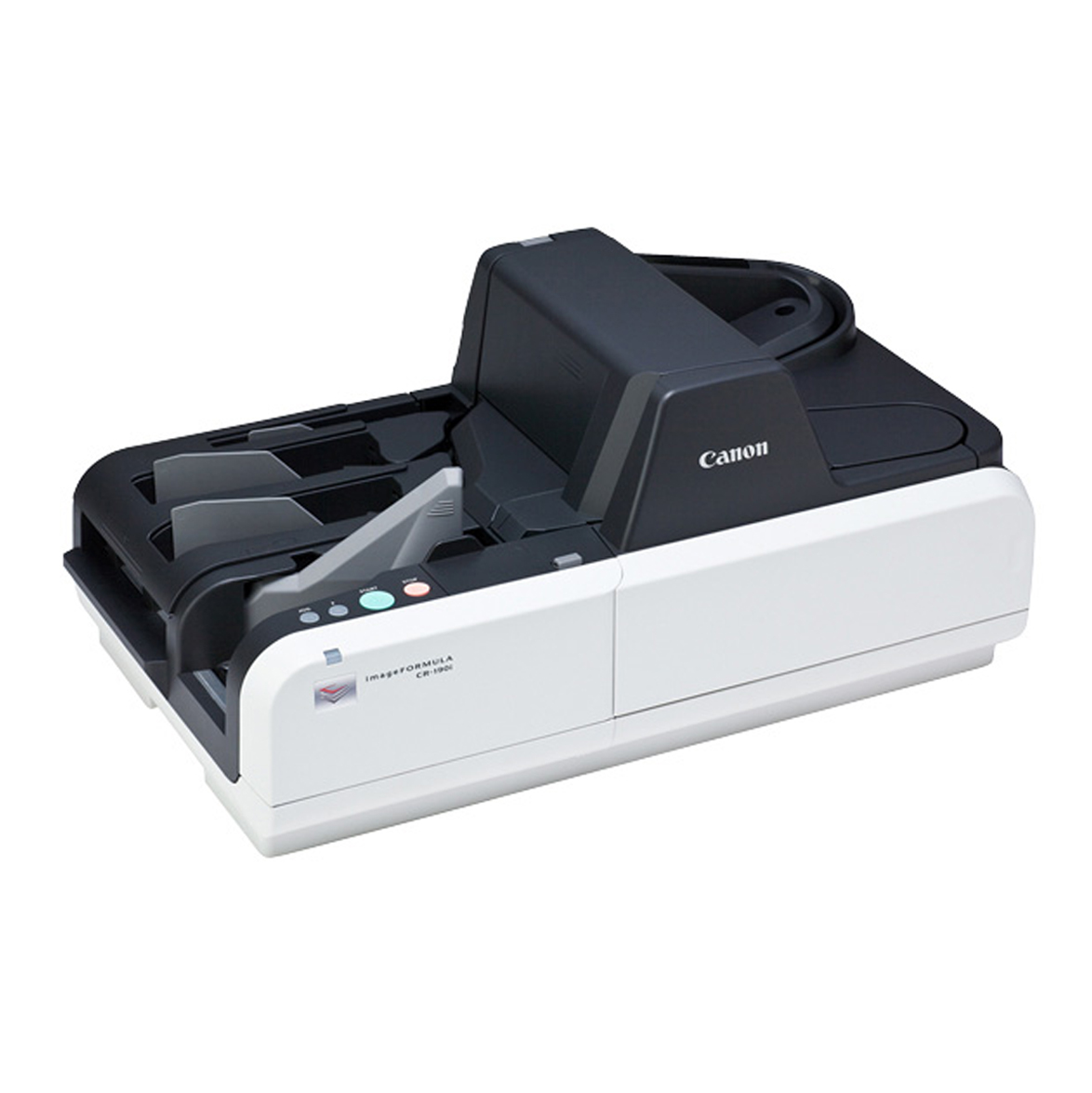 The Canon CR-190i Ⅱ check scanner is a powerful business tool. In addition to boosting your check scanning speed and accuracy, the CR-190i Ⅱ features a compact footprint to help you save valuable space in the office. Canon's unique, all-in-one design improves efficiency by combining five process steps - stack alignment, MICR reading, endorsement printing, scanning, and sorting - into a single, quick operation.
Features

State-of-the-art Mechanical Design

High-speed scanning of 190 checks per minute

With a duplex scanning rate of 190 checks per minute*, the CR-190i Ⅱ achieves a new level of speed for compact check scanners.

*When reading American checks at 200 dpi with Fine Text Filtering

Advanced image processing technology

The CR-190i Ⅱ uses Fine Text Filtering to achieve clean text scans. The advanced image processing technology significantly reduces unwanted noise resulting from background colors and images on the checks, allowing the sharp reproduction of important character data, whether it is printed or handwritten.

Compatible with documents other than checks

While the CR-190i Ⅱ functions primarily as a check scanner, it can also be used to scan a variety of other documents, including envelopes and deposit slips. Documents can be as large as 108 × 245 mm (4.3 × 9.6 in).

Ultra-reliable MICR reading

With magnetic/optical character recognition (MOCR) technology that uses Canon's high-precision magnetic reader simultaneously with OCR processing, the CR-190i Ⅱ is able to achieve a magnetic ink character recognition (MICR) accuracy of 99.999%* while maintaining a high scanning speed of 190 checks per minute.

*Based on the results of our testing

Four-line endorsements

The CR-190i Ⅱ can print endorsement information on the back of checks while they are being scanned. Up to four 48-character lines of text, as well as bitmap images, can be printed clearly on the checks.

CR-SDK

(Software Development Kit)

The CR Software Development Kit (CR-SDK) is available for users who wish to create an application that take advantage of the CR-190i Ⅱ's array of additional capabilities, which include an advanced imprint function, an add-on function that enables printing on images only, an image quality assurance (IQA) function that checks image quality, and the ability to control applications using the buttons on the machine. An application can also be developed for the .NET environment.

Functions

Exclusive Canon Technology

Efficient, large-capacity feeder

Manually inserting checks one by one into the scanner can become a very labor-intensive task when processing large volumes of checks. The CR-190i Ⅱ simplifies this process with a feed tray that holds up to 250 checks at a time and allows on-the-fly reloading while checks are being scanned. This feature, which is a result of Canon's wealth of accumulated expertise, allows hands-free scanning and improves the overall efficiency of your high-volume check processing operations.

Accurate double feed detection

The CR-190i Ⅱ is equipped with an ultrasonic sensor that prevents misreadings and omissions by reliably detecting double feed errors in the rare event they occur.

Simple, one-button check alignment

To ensure that MICR data is read accurately, stacks of checks must be properly aligned before scanning. The CR-190i Ⅱ is equipped with a built-in jogger unit that aligns checks in the feeder before scanning starts. The convenient, one-button operation saves you the time and trouble of using a separate unit for this task.

Three-pocket sorting

The CR-190i Ⅱ is equipped with three output pockets — two that hold 200 checks each and one that holds 50. Scanned checks can be sorted based on MICR and OCR data.*

*The availability of OCR-based sorting depends on the capabilities of the application used.

Quick and easy maintenance

The CR-190i Ⅱ opens on the side, making iteasy to perform maintenance tasks such as changing the imprinter's ink cartridge, clearing paper jams, and cleaning the scanning glass and feed rollers.

Convenient software and easy integration

The CR-190i Ⅱ comes with the Canon Scanning Utility, an application that provides scanning, file saving, image viewing, printing, and various other functions. Also included are a Canon scanner driver and a driver based on Silver Bullet Technology's RangerTM Transport API software, allowing the CR-190i Ⅱ to be easily integrated into existing systems or used with a wide range of leading check processing software.

Specifications

Type
Seetfed type check scanner
Document feeding
Automatic sheet feeding
Document size
Width : 68 – 108 mm (2.7 – 4.3 in.)
Length : 120 – 245 mm (4.7 – 9.6 in.)
Document thickness and weight
0.08 – 0.20 mm (0.003 to 0.008 in), 64 – 157 g/m2 (17 – 40 lb bond)
Feeding capacity
25mm (1.0 in) stack or 250 sheets
Scanning element
CMOS CIS
Light source
LED (red, green, and blue)
Scanning side
Simplex/Duplex
Scanning modes
Black and White, Fine text filtering, Error diffusion
Length : 120 – 245 mm (4.7 – 9.6 in.)
Scanning resolutions
100 x 100 dpi, 120 x 120 dpi, 150 x 150 dpi, 200 x 200 dpi, 240 x 240 dpi, 300 x 300 dpi
Scanning speed
(U.S. Checks, 200 dpi, all mode)
190 cpm*
MICR/ OCR
MICR : E13B/ CMC-7
OCR : E13B/ OCR-A/ OCR-B/ Check Writer/ Universal Character
OS
Windows XP(32bit/64bit), Windows Vista(32bit/64bit), Windows 7(32bit/64bit)
Interface
Hi-Speed USB 2.0
Useful functions
Auto Paper Size Detection, Ultrasonic Double Feed Detection, Color Dropout (R/G/B)
Power requirements
AC120V (60Hz), AC220 – 240V (50/60Hz)
Power consumption
120V model : Scanning: Less than 56.1W, Sleep Mode: 3.9W
220-240V model : Scanning: Less than 52.8W, Sleep Mode: Less than 4.7W
Operating environment
10°C – 32.5°C (50°F – 90.5°F), Humidity: 20% – 80% RH
Dimensions (W x D x H)
476mm x 272mm x 214mm (18.7 x 10.7 x 8.4 in.)
Weight
Approx. 8.4 kg (18.5 lb.)
Options/Consumables
Ink cartridge (for imprinter), Exchange Roller Kit, Ink Disposal Tank

* Scanning speed may vary depending on PC environment, scanner settings, and other factors.
Specifications are subject to change without notice.

Imprinter ink cartridge (sold separately)

The ink cartridge is not included with the scanner.Purchase an ink cartridge separately,as shown below.
Compatible ink cartridges:Cannon ink cartridge

| Area | Products |
| --- | --- |
| North America/South America | PG-145/145XL,245/245XL |
| EU | PG-445/445XL,545/545XL |
| Asia/Oceania | PG-645/645XL,745/745XL |

Easy maintenance

The CR-190i Ⅱ is durable and easy to keep in top scanning condition. A user-installable Exchange Roller Kit is available for replacing when worn -no service technician is required.