P-215II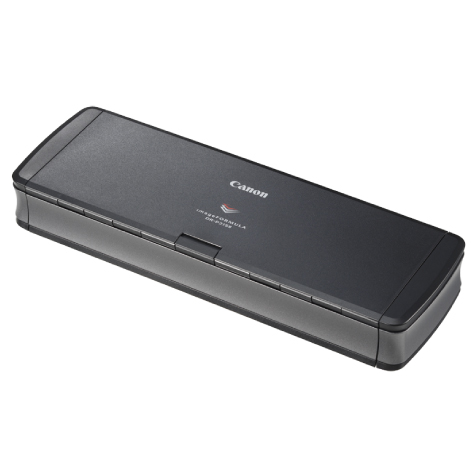 As well as being small, and easy to operate, the feature-packed P-215II offers high-speed one-pass duplex scanning with the added convenience of a plug-and-scan function. Also, a built-in card reader is helpful for businesses who need to capture ID or business cards.
Features

Super-fast and simple to operate, the P-215II is a lightweight, compact scanner that can be used anywhere, anytime. You don't need access to a power supply – all you need to start scanning is a USB connection.
This machine will open up all kinds of new scanning possibilities. What's more, ease of use is enhanced by the new CaptureOnTouch and CaptureOnTouch Lite, which makes for even more intuitive operation.

COMPLETE ARRAY OF SCANNING FEATURES

Compact and Portable

This small and lightweight scanner with its slim and streamlined design is easy to carry around, giving you the freedom to scan anytime at all. And with ADF capacity of up to 20 sheets, it is also ideal for business use despite its compact size.

USB Powering

USB PoweringThe P-215ll draws power from a single USB port, eliminating the need for a dedicated power cable and reducing clutter around the scanner. The scanner will perform at the maximum scanning speed via a single cable when connected to a USB 3.0 port*.

*USB3.0 is for power supply only.

Plug & Scan

There is no need to install any driver software or scanning application on your PC as the pre-installed scanning utility, CaptureOnTouch Lite, provides plug-and-scan capabilities. Simply opening the feed tray turns the scanner on and makes it ready to scan.

High-Quality One-Pass Scanning

Simplex (ppm)
Duplex (ipm)
B&W / Grayscale
Color
B&W / Grayscale
Color
200dpi
15
10
30
20
300dpi
15
6
30
12

*A4, Portrait, When using USB 3.0, USB 2.0 bus power in combination with the powersupply USB cable, or the AC adapter (option)

Card Scanning

When a card is inserted into the slot at the front, the switchback system will automatically transport, scan and eject. This type of card scanning is particularly handy in businesses where counter service is important.

Functions

Various functions to improve scanning efficiencies and qualities

Wide range of intelligent image processing functions are equipped.
Please refer to the "Image processing functions" page for details.

Bundled Software

Enhanced ease of use and intelligibility

As this is preinstalled, plug-and-scan is now available without having to install any driver software. Employing the same panel-style GUI as CaptureOnTouch, CaptureOnTouch Lite offers editing capability and intuitively understands what is required. What's more, the standard functions of CaptureOnTouch can be used in exactly the same way for a trouble-free scanning experience. Additional plug-ins can also be used to support various outputs.

Enhanced Cloud Connectivity

Connection iconsConnection to cloud-based services is now even more comprehensive. In addition to Evernote, SharePoint and Google Drive, scanning destinations have been expanded to include SugarSync, OneDrive and Dropbox.

CapturePerfect and CaptureOnTouch are both capture application software for the DR scanner series.
Each of the software can be selected and used, depending on the usage and workflow.
Please refer to the "Software" page for details.

Specifications

Type
Desktop sheet-fed scanner
Document size
Plain paper
Width: 50.8 to 216 mm (2 to 8.5″)
Length: 70 to 356 mm (2.76 to 14″)
(You can scan documents up to 1,000 mm (39.4″)
long by setting the scanner to the Long Document mode.)
Postcard
Width: 88.9 to 108 mm (3.5 to 4.25″)
Length: 127 to 152.4 mm (5 to 6″)
Business card
Width: 49 to 55 mm (1.93 to 2.17″)
Length: 85 to 91 mm (3.35 to 3.58″)
Card
54 x 86 mm (2.1 x 3.4″) (ISO standard)
Document thickness and weight
Plain paper
0.06 to 0.15 mm (0.0024″ to 0.0059″)
52 to 128 g/m² (14 to 34 lb bond)
Postcard
0.15 to 0.3 mm (0.0059″ to 0.00118″)
128 to 255 g/m² (34 to 68 lb bond)
Business card
0.15 to 0.3 mm (0.0059″ to 0.00118″)
128 to 255 g/m² (34 to 68 lb bond)
Card
0.76 mm (0.03″) ISO7810 ID-1 compatible
Document feeding
Automatic sheet feeding
Feeding capacity
3 mm stack (including curls) or 20 sheets of 64 g/m² (16 lb. bond)
Scanning element
Contact image sensor
Light source
LED (Red, Green, and Blue)
Scanning side
Simplex/Duplex
Scanning modes
Black and White, Error Diffusion, Advanced Text Enhancement II, 8bit (256-level) Grayscale, 24-bit Color
Scanning resolution
150 x 150dpi, 200 x 200 dpi, 300 x 300 dpi, 400 x 400 dpi, 600 x 600 dpi
Scanning speed *1 (A4/LTR)
When using USB 2.0 bus power
B&W
/Grayscale
200 dpi/300 dpi: 12 ppm (Simplex), 14 ipm (Duplex)
Color
200 dpi: 10 ppm (Simplex), 10 ipm (Duplex)
300 dpi: 6 ppm (Simplex), 6 ipm (Duplex)
USB 2.0 x 2 / USB 3.0*2 x 1 /
USB 2.0 x 1 + AC Adapter
B&W
/Grayscale
200 dpi/300 dpi: 15 ppm (Simplex), 30 ipm (Duplex)
Color
200 dpi: 10 ppm (Simplex), 20 ipm (Duplex)
300 dpi: 6 ppm (Simplex), 12 ipm (Duplex)
Interface
Hi-Speed USB 2.0 (USB 3.0 bus power also supported)
Scanner driver/Software
Windows:
ISIS/TWAIN Driver, CaptureOnTouch, CaptureOnTouch Lite(Built-in)
Mac:
TWAIN Driver, CaptureOnTouch, CaptureOnTouch Lite (Built-in)
Dimensions (W x D x H)
Feed tray closed: 285 x 95 x 40 mm (11.2 x 3.8 x 1.6″)
Feed tray open: 285 x 257 x 174 mm (11.2 x 10.1 x 6.9″)
Weight
Approx. 1.0 kg (2.2 lbs)
Power supply
With USB 2.0 bus power
0.5 A (communication cable only),
1.0 A (in combination with the power supply USB cable)
With USB 3.0 *2 bus power
0.9 A
With optional AC Adapter
DC6V, 0.8 A
Power consumption
USB cable only
2.5 W (USB 2.0), 4.5 W (USB 3.0 *2) or less
USB cable and power supply USB cable
5.0 W (USB 2.0), 7.0 W (USB 3.0 *2) or less
Sleep mode
1.5 W or less
Power OFF
0.1 W or less
Operating environment
Temperature: 10°C to 32.5°C (50°F to 90.5°F)
Humidity: 25% to 80% RH
Options/Consumables
AC Adapter, Carrying Case, USB Cable, Separation Pad, Feed Roller

*1 Scanning speed may vary depending on PC environment, scanner settings, and other factors.
*2 The supplied USB cable is designed specifically for this scanner. Do not use it with any other device.

Specifications are subject to change without notice.

Canon and the Canon logo are registered trademarks of Canon Inc. in the United States and may also be trademarks or registered trademarks in other countries.
imageFORMULA is a trademark of CANON ELECTRONICS INC.
Microsoft, Windows are registered trademarks of Microsoft Corporation in the United States and other countries.
Apple and OS X are registered trademarks of Apple Inc. in the United States and other countries.
Other product and company names herein may be the trademarks of their respective owners.