DR-S150 / DR-S130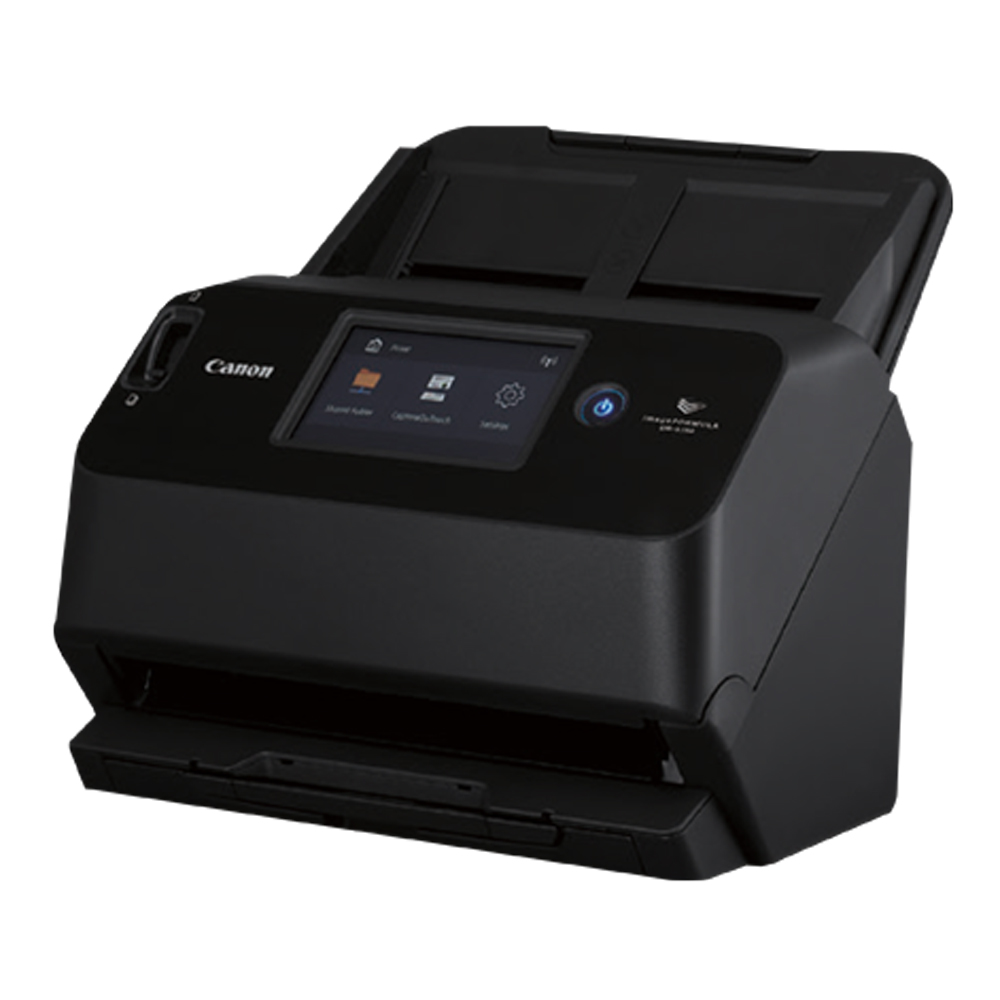 The DR-S150 / DR-S130 is a small network scanner with USB, wired LAN and wireless LAN connection * available, which achieve both of various scanning functions and intuitive operation with touch panel. The DR-S150 / DR-S130 enables you to use it in a various ways, you can share the scanner with multiple users and complete central management easily when you use the scanners at multiple blanches for example. * LAN connection is available only for DR-S150.
Features

A4 network scanner which can be used flexibly according to the user's environment

By supporting three kinds of interface, the DR-S150 / DR-S130 provides you various scanning methods such as;

PUSH scanning without PC
Scanning from smart devices
Share the scanner with multiple PCs on the same network

Also, server software "COT Admin * " is available, which can achieve centralized management of multiple scanners and users at each branch so that it can meet each user's demand in various office environments.

* COT Admin is available only for DR-S150.

Provide layout-free and device-free environment

By supporting network connection the DR-S150 / DR-S130 can complete the process from scanning to saving the data via PCs or smart devices on the same network.  Also, the DR-S150 / DR-S130 can scan without PC by registering scan settings often used to the scanner in advance.

User doesn't need to be worried about cables nor PC position and can utilize your limited office spaces.  Furthermore, the DR-S150 / DR-S130 can reduce operation cost since it doesn't require a dedicated PC.

Large color LCD panel and simple UI for intuitive operation

Following two attractive features eliminate cumbersome scanning operation in each time so that user can complete operations in a short time without mistake:

Large color LCD panel on a device and its simple display of the icons/ texts
Function to register frequent-used scanning settings to the scanner or PC in advance

Centralized management of scanners/ users and secure system operation

Introduction of the server management software "COT Admin" enables IT manager to achieve centralized management of users/ scanners or scanning settings for each user by application software. IT manager can control the display in the LCD panel so that only the scanning settings for the log-in user are displayed to prevent the user from setting the scan settings every time or operation mistakes. For log-in method, three user authentication methods are available: 1.Enter PIN code of the scanner, 2. Enter user ID and Password, 3.NFC authentication by ID card*
The DR-S150 achieves secure system operation matching to users' environment.

*The optional Feeder Tray with NFC reader is necessary.

Equipped with the image processing engine "DR Processor"

"DR Processor", an image processing engine equipped with high-speed CPU, is adopted to the DR-S150 / DR-S130. This achieves fast, high-quality scanning in both color mode of Color/ Grayscale and B&W without depending on the performance of user's PC. Also the DR Processor reduces uneven coloring, allowing documents to be scanned as images that are more suitable for OCR (Optical Character Recognition).

Support various originals

Various kinds of documents can be scanned such as thin receipts to thick card, licenses and passport with IC chip.  Also Folio function which document can be folded in half, scanned, and then combined into one image is equipped in order to create the image data of large A3–size document.

*Optional Carrier Sheet (Passport) is necessary.

Functions

High-quality scanning with simple operation

High image accuracy and quality are important to minimize error rates, achieve regulatory compliance, and increase the ease of document integration and retrieval. The DR-S150 / DR-S130 achieves comfortable working process by creating effectively high-quality images that are easy to check card utilize, and increase accuracy of OCE processing.

"Active Threshold" function to increase image quality by automatically adopting optimal value per each page

"Active Threshold" function creates optimal images by automatically adopting scanning setting value such as brightness when scanning documents in B&W mode continuously. You can scan various kind of format as 1 batch since it does not take time and effort to change scanning settings for each document.  Documents even with light color texts or wrinkled/ dirtiness can be well reproduced.

Easy scanning operation by batch separation function

The DR-S150 / DR-S130 can automatically sort document batches to some groups and save them as separated file by barcode/ 2D code, patch code or specified texts included into the scanned documents.

Selectable processing according to usage when feeding error detection

"DFR (Double Feed Release)" function is useful when scanning photos, documents with sticky notes. If the scanner detects a double feed, the feeding stops temporarily and a confirmation screen regarding whether or not you want to continue scanning appears on PC screen and the touch panel.  If you have checked the originals and there are no problems, select DFR (SAVE&CONTINUE).  Doing this saves any images scanned up to that point and allows you to scan the rest of the originals.

Various functions to improve scanning efficiencies and qualities

Wide range of intelligent image processing functions are equipped.
Please refer to the "Image processing functions" page for details.

Bundled Software

CapturePerfect and CaptureOnTouch are both capture application software for the DR scanner series.
Each of the software can be selected and used, depending on the usage and workflow.
Please refer to the "Software" page for details.

Specifications

DR-S150 / DR-S130 Specifications

Type
Desktop sheet-fed scanner
Desktop sheet-fed scanner
Model
DR-S150
DR-S130
Document size
Plain paper
Width :50.8 mm to 216 mm (2″ to 8.5″)
Length :54 mm to 356 mm (2.1″ to 14″)
* You can scan documents up to 3,000 mm (118.1″) long by setting
the scanner to the Long Document mode.
Business card
50 mm x 85 mm (2″ x 3.35″) or larger
Card
54 mm x 86 mm (2.12″ x 3.37″) (ISO standard)
Passport
Size :88 mm x 125 mm (3.464″ x 4.921″) (ISO standard)
*When scanning, be sure to open the passport and insert it in the
separately sold carrier sheet beforehand.
Document thickness and weight
Plain paper
Page separation :0.04 mm to 0.25 mm (0.00157″ to 0.00984″)
27 to 209 g/m2 (7 to 56 lb bond)
Bypass :0.04 mm to 0.3 mm (0.00157″ to 0.0118″)
27 to 255 g/m2 (7 to 68 lb bond)
Business card
380 g/m2 (80 lb bond) 0.45 mm (0.0177″) or less
Card
1.4 mm (0.55″) or less
Passport
4 mm (0.157″) or less (including carrier sheet)
Document feeding method
Automatic
Scanning sensor
Contact image sensor
Light source
LED
Scanning side
Simplex/Duplex
Scanning modes
Black and White, Error Diffusion, Grayscale, Active Threshold, Advanced Text Enhancement, Advanced Text Enhancement II
Scanning resolution
100 x 100 dpi/150 x 150 dpi/200 x 200 dpi/240 x 240 dpi/
300 x 300 dpi/400 x 400 dpi/600 x 600 dpi
Scanning speed*
Grayscale
200 dpi/300 dpi :45 ppm (Simplex), 90 ipm (Duplex)
200 dpi/300 dpi :45 ppm (Simplex), 90 ipm (Duplex)
Color
200 dpi :45 ppm (Simplex), 90 ipm (Duplex) 300 dpi :30 ppm (Simplex), 60 ipm (Duplex)
200 dpi :45 ppm (Simplex), 90 ipm (Duplex) 300 dpi :30 ppm (Simplex), 60 ipm (Duplex)
Interface
USB 3.2 Gen1x1/USB 2.0, IEEE802.11b/g/n, 10Base-T/100Base-TX/1000Base-T
USB 3.2 Gen1x1/USB 2.0, IEEE802.11b/g/n
Scanner driver
ISIS/TWAIN Driver
Other functions
Folio scanning, Double feed detection ignore
Dimensions
(W x D x H)
With the trays closed
291 mm (11.5″) x 247 mm (9.8″) x 242 mm (9.5″)
With the trays open
291 mm (11.5″) x 600 mm (23.7″) x 378 mm (14.9″)
Weight (without AC adapter)
Approximately 3.3kg (7.44 lb)
Power supply (using AC adapter)
24 VDC, 0.9 A
Power consumption
Scanning :22.5 W or less
In the sleep mode :3.1 W or less (100-120V), 3.4 W or less (220-240V)
With power switch OFF :0.1 W or less
Operating environment
Temperature
10°C to 32.5°C (50°F to 90.5°F)
Humidity
20% to 80% RH
Options/consumables
Flatbed Scanner Unit 102
Exchange Roller Kit (feed roller and retard roller),
Carrier Sheet (Passport), Carrier Sheet (A4), NFC Feeder Tray
Flatbed Scanner Unit 102
Exchange Roller Kit (feed roller and retard roller),
Carrier Sheet (Passport), Carrier Sheet (A4)

* Actual scanning speed may vary depending on your system configuration and computer.
Specifications are subject to change without notice.

Canon and the Canon logo are registered trademarks of Canon Inc. in the United States and may also be trademarks or registered trademarks in other countries.
imageFORMULA is a trademark of CANON ELECTRONICS INC.
ISIS is a registered trademark of OpenText in the United States.
Microsoft and Windows are registered trademarks of Microsoft Corporation in the United States and other countries.
Other product and company names herein may be the trademarks of their respective owners.