DR-6030C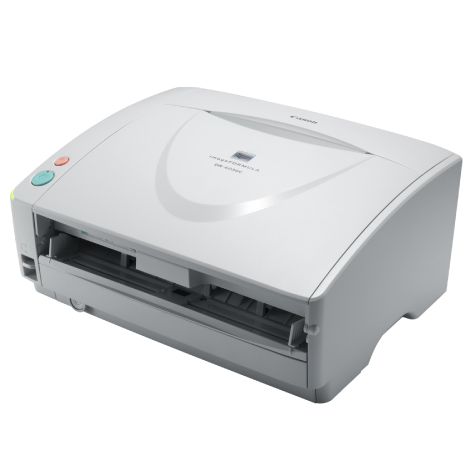 Canon's imageFORMULA DR-6030C departmental scanner blends high speeds and reliable document handling with versatility and convenience. The DR-6030C scanner provides comprehensive functionality in a desktop design that effectively delivers document capture benefits in any business application.
Features

High Speed & High Image Quality

Super-fast scanning

The DR-6030C employs an advanced 3-line CMOS CIS sensor to achieve ultra-fast color scanning at 60 pages per minute. Double-sided documents can be scanned just as quickly at 120 images per minute. And with the Hardware JPEG Transfer option, image data can be compressed when being transferred from the scanner to your PC for reduced transfer time for even higher output potential.

Superb image clarity and color

The versatile DR-6030C doesn't compromise on image quality with an output resolution up to 600 dpi for clear, high-quality scanning in black and white (binary), 256-level grayscale, or 24-bit color. Canon's 3-Dimensional Color Correction function faithfully reproduces a document's color information using a built-in conversion circuit to pinpoint the exact RGB color coordinates. The result is unprecedented color reproduction and accuracy. And greater accuracy means better readability for both people and OCR scanning applications.

Reliable Paper Handling

The DR-6030C features Canon's renowned high-precision roller system to deliver smooth, jam-free feeding of a wide variety of document weights and sizes from business card size up to 118.1 inches (3,000 mm) in Long Document mode.

Straight Path feeding

Scan plastic cards with Straight Path

Scan thick documents, business cards, and even plastic cards thanks to Straight Path feeding, which allows documents to be scanned and ejected in a straight path to the back of the scanner.

Skew Detection

If a large document enters the scanner at an angle, Skew Detection temporarily stops feeding to prevent the document from tearing or jamming.

Ultrasonic Double Feed Detection

The scanner features ultrasonic sensors that can detect the gap of air between overlapping pages to prevent multiple documents from being fed through at the same time. This feature prevents lost images and ensures that every page of even large batches of documents is scanned.

Rapid Recovery System

If scanning is interrupted due to a misfeed, the Rapid Recovery System allows you to reposition your document on the feed tray and seamlessly continue scanning right where it left off. Because incomplete image data is not transferred to your PC, you won't ever have to delete incomplete data yourself or rescan an entire batch of documents.

Functions

Advanced Scanner Functions

The most intricate of image details can be captured with exquisite precision and clarity using DR-6030C's advanced efficiency-optimizing image processing functions and 600 dpi high optical resolution.

Auto Color Detection

DR-6030C is equipped with Auto Color Detection to detect, during the scanning of documents in a mixed batch, whether or not a page contains color. Black-and-white images are scanned in black-and-white scanning mode, and color pages in color scanning mode. This eliminates the need to separate black-and-white and color documents prior to scanning while ensuring image files are kept smaller than if scanning the whole batch in color mode.

3-Dimensional Color Space Correction

The 3-Dimensional Color Correction helps the DR-6030C achieve unprecedented color accuracy, true to the original document, using an onboard color conversion chip to pinpoint the exact RGB coordinates.

Various functions to improve scanning efficiencies and qualities

Wide range of intelligent image processing functions are equipped.
Please refer to the "Image processing functions" page for details.

CapturePerfect is a capture application software for the DR scanner series.
Please refer to the "Software" page for details.

Specifications

Type
Desktop sheetfed scanner
Document feeding
Automatic or manual sheet feeding
Document size
Width: 53 – 300 mm (2 – 11.8 in.)
Length: 70 – 3,000 mm (2.75 – 118.1 in.)
Document thickness and weight
U-Turn path
Automatic feeding: 0.06- 0.15 mm, 52-128 g/m2 (14-32 lb bond)
Manual feeding: 0.05-0.2 mm, 42-157 g/m2 (11-40 lb bond)
Straight path
Automatic feeding: 0.06-0.15 mm, 52-128 g/m2 (14-32 lb bond)
Manual feeding: 0.05-0.66 mm, 42-546 g/m2 (11-144 lb bond)
Business card size and thickness
Size: 53.9 x 85.5 mm (2.12 x 3.36 in.)
Thickness: 0.76±0.08 mm (0.03±0.003 in.) or less
Feeding capacity
10 mm stack or 100 sheets of 80 g/m2 (20 lb bond)
Scanning element
3-line CMOS CIS
Light source
LED (red, green, and blue)
Scanning side
Simplex/Duplex
Scanning modes
Black and White, Error Diffusion, High-Speed Text Enhancement, Advanced Text Enhancement, Advanced Text Enhancement II, 256-level Grayscale, 24-bit Color
Scanning resolution
100 x 100 dpi, 150 x 150 dpi, 200 x 200 dpi, 240 x 240 dpi,
300 x 300 dpi, 400 x 400 dpi, 600 x 600 dpi
Scanning speed
(A4/LTR, Portrait, 200 dpi)
Black and white
200 dpi: 60 ppm (Simplex), 120 ipm (Duplex); 300 dpi: 60 ppm (Simplex), 120 ipm (Duplex)
256-level grayscale
200 dpi: 60 ppm (Simplex), 120 ipm (Duplex); 300 dpi: 60 ppm (Simplex), 120 ipm (Duplex)
24-bit color
200 dpi: 60 ppm (Simplex), 120 ipm (Duplex); 300 dpi: 60 ppm (Simplex), 80 ipm (Duplex)
Interface
Hi-Speed USB 2.0
Scanner driver
ISIS/TWAIN
Useful functions
Ultrasonic Double Feed Detection, Continuous Mode, Moire Reduction, Prevent Bleed Through/Remove Background, Punch Hole Removal, Color Dropout, Auto Page Size Detection, Text Orientation Recognition, Skip Blank Page, Deskew, Auto Color Detection
Power requirement
AC100 – 120V (50/60 Hz), AC220 – 240V (50/60 Hz)
Power consumption
41.1W or less(Energy Saving Mode: 2.5W or less)
Operating environment
10 – 32.5°C (50 – 90.5°F), Humidity: 20 – 80% RH
Dimensions (W x D x H)
Feed trays closed: 398.4 x 312 x 191.4 mm (15.6 x 12.3 x 7.5 in.)
Weight
Approx. 10.5 kg (23 lb.)
Options / Consumables
Barcode Module, Exchange Roller Kit

* Actual scanning speed may vary depending on your system configuration and PC.
* Specifications are subject to change without notice.

Canon and the Canon logo are registered trademarks of Canon Inc. in the United States and may also be trademarks or registered trademarks in other countries.
imageFORMULA is a trademark of CANON ELECTRONICS INC.
Microsoft and Windows are registered trademarks of Microsoft Corporation in the United States and other countries.
Other product and company names herein may be the trademarks of their respective owners.
Adobe, the Adobe logo, Acrobat, the Adobe PDF logo, and Adobe Reader are either registered trademarks or trademarks of Adobe Systems Incorporated in the United States and/or other countries.
Kofax, the Kofax logo, and other Kofax marks are registered trademarks or trademarks of Kofax, Inc. in the United States and other countries, and used under authority from Kofax.