DR-C240 / C230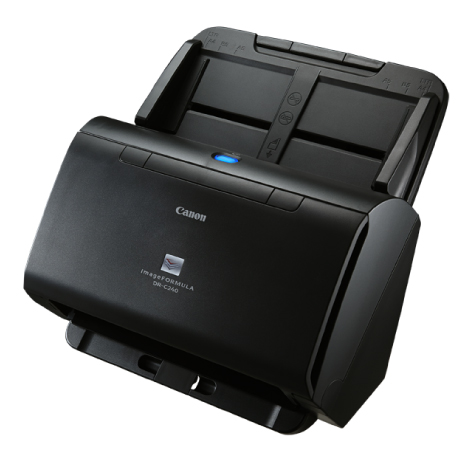 The DR-C240/C230 are high-speed scanning solution with a feeder which can hold a maximum of 60 sheets of paper. This powerful scanner can load different sized documents simultaneously and process various types of original, including thin paper, postcards, and even passports. It is suitable for scanning a huge number of documents quickly and helping you work more effectively.
Features

COMFORTABLE HIGH-PERFORMANCE SCANNING

Passport scanning

You can easily scan your passport by loading it into the optional Carrier Sheet (Passport). This compact scanner can be very useful for a number of different jobs, such as receptionist.

Supports various originals

This scanner processes various types, sizes, and weights of document.

* To scan a passport, the optional Carrier Sheet (Passport) is needed.
* A Folded A3 or A2 sized document can be also processed.

High-capacity ADF

The heavy-duty Auto Document Feeder can hold up to 60 sheets of paper (80g/m²). This scanner can scan several documents at the same time, even if different sized documents are mixed.
This gives the scanner fantastic usability, and helps it efficiently support your work.

Stylish, sturdy, slim body

The stylish body of the DR-C240/C203 will perfectly fit any offices, and it is sturdy and compact enough to sit comfortably on your desk top. It is designed to stay on top of high-volume scanning needs in a variety of business settings.

High-speed scanning

One-pass duplex scanning allows efficient scanning of large volumes of documents.

DR-C240 (A4 Portrait)

Simplex (ppm)
Duplex (ipm)
B&W / Grayscale
Color
B&W / Grayscale
Color
200 dpi
45
30
90
60
300 dpi
45
20
90
40

DR-C230 (A4 Portrait)

Simplex (ppm)
Duplex (ipm)
B&W / Grayscale
Color
B&W / Grayscale
Color
200 dpi
30
30
60
60
300 dpi
30
20
60
40

Functions

SUPERIOR PRODUCTIVITY
SUPPORTED BY SOLID TECHNOLOGY

 User-friendly operation panel

Start and stop scanning and perform other operations away from your computer with the operating panel.

Double Feed Release functions

If a double feed is detected, the Retry and DFR (Double Feed Release) functions allow scanning to resume. To resume the detected job, select the DFR in the confirmation dialogue on the screen or press the DFR button on the main unit. These functions can help to reduce the downtime during scanning.

* DFR is only available in Continuous Scanning mode and if Double Feed Detection is set up.

Batch separation using blank sheets

Insert a blank sheet that will be recognized as a batch separator to automatically separate files.

Various functions to improve scanning efficiencies and qualities

Wide range of intelligent image processing functions are equipped.
Please refer to the "Image processing functions" page for details.

Bundled Software

CapturePerfect and CaptureOnTouch are both capture application software for the DR scanner series.
Each of the software can be selected and used, depending on the usage and workflow.
Please refer to the "Software" page for details.

Specifications

DR-C240/C230 Specifications

Type
Desktop sheet-fed scanner
Document size
Plain paper
Width : 50.8 mm to 216 mm (2″ to 8.5″)
Length : 54 mm to 356 mm (2.1″ to 14″)
*You can scan documents up to 3,000 mm (118.1″) long by setting the scanner to the Long Document mode.
Business card
50.8 mm x 85 mm (2″ x 3.35″) or larger
Card
54 mm x 86 mm (2.12″ x 3.37″) (ISO standard)
Passport
Size : 88 mm x 125 mm (3.464″ x 4.921″) (ISO standard)
*When scanning, be sure to open the passport and insert it in the provided carrier sheet beforehand.
Document thickness and weight
Plain paper
Page separation :
0.04 mm to 0.25 mm (0.00157″ to 0.00984″)
27 to 209 g/m² (7 to 56 lb bond)
Bypass :
0.04 mm to 0.3 mm (0.00157″ to 0.0118″)
27 to 255 g/m² (7 to 68 lb bond)
Business card
380 g/m² (80 lb bond) 0.45 mm (0.0177″) or less
Card
0.76 mm (0.03″) or less
Up to 1.4 mm (0.055″) for embossed cards
Passport
4 mm (0.157″) or less (including carrier sheet)
Document feeding method
Automatic
Scanning sensor
Contact image sensor
Light source
LED
Scanning side
Simplex / Duplex
Scanning modes
Black and White, 256-level Grayscale, 24-bit Color, Error Diffusion, Advanced Text Enhancement, Advanced Text Enhancement II
Scanning resolution
100 x 100 dpi / 150 x 150 dpi / 200 x 200 dpi / 240 x 240 dpi / 300 x 300 dpi / 400 x 400 dpi / 600 x 600 dpi
Scanning speed*
B&W / Grayscale
DR-C240 200 dpi/300 dpi: 45 ppm (Simplex), 90 ipm (Duplex)
DR-C230 200 dpi/300 dpi: 30 ppm (Simplex), 60 ipm (Duplex)
Color
200 dpi : 30 ppm (Simplex), 60 ipm (Duplex)
300 dpi : 20 ppm (Simplex), 40 ipm (Duplex)
Interface
Hi-Speed USB 2.0
Scanner driver / Software
ISIS/TWAIN Driver, CaptureOnTouch, CapturePerfect, Kofax VirtualReScan Basic
Other functions
Folio scanning, Double feed release, DFR
Dimensions
( W x D x H )
With the trays closed
291 mm (11.46″) x 253 mm (9.96″) x 231 mm (9.09″)
With the trays open
291 mm (11.46″) x 603 mm (23.74″) x 363 mm (14.29″)
Weight
( without AC adapter )
Approximately 2.8kg (6.17 lb)
Power supply
( using AC adapter )
DC24V 1.0A
Power consumption
Scanning
19W or less
In the sleep mode
1.4W or less
With power switch OFF
0.1W or less
Operating environment
Temperature : 10°C to 32.5°C (50°F to 90.5°F)
Humidity : 20% to 80% RH
Options / Consumables
Flatbed Scanner Unit 102/201, Barcode Module, 2D code Module, Exchange Roller Kit (feed roller and retard roller), Carrier Sheet (Passport), Carrier Sheet (A4 size)

* Actual scanning speed may vary depending on your system configuration and PC.
* Specifications are subject to change without notice.

Canon and the Canon logo are registered trademarks of Canon Inc. in the United States and may also be trademarks or registered trademarks in other countries.
imageFORMULA is a trademark of CANON ELECTRONICS INC.
Microsoft and Windows are registered trademarks of Microsoft Corporation in the United States and other countries.
Other product and company names herein may be the trademarks of their respective owners.
Adobe, the Adobe logo, Acrobat, the Adobe PDF logo, and Adobe Reader are either registered trademarks or trademarks of Adobe Systems Incorporated in the United States and/or other countries.
Kofax, the Kofax logo, and other Kofax marks are registered trademarks or trademarks of Kofax, Inc. in the United States and other countries, and used under authority from Kofax.