DR-X10C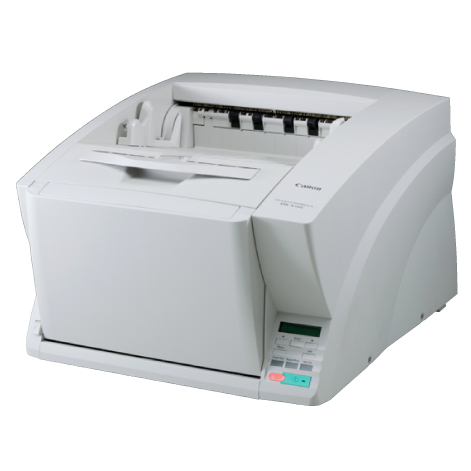 DR-X10C can scan documents in color just as quickly as in black & white - at a fast 100 pages per minute. (200dpi, A4/LTR, Portrait) DR-X10C features many new functions such as 3-step dust prevention method for clean, clear images, Dedicated, onboard image processing chip. Double feed Retry mechanism, Dedicated sensor for document size and angle detection.
Features

Superb Canon Image Quality and Speed

The Canon DR-X10C delivers unrivaled image quality and scanning speed, plus diverse output formats such as searchable PDF in resolutions up to 600 dpi. Unique to the DR series is its selectable background – the color can be switched between white and black to suit particular document types and applications.

Rapid, high quality scanning

ppm & ipmImages can be continuously captured at a rate of 100 pages per minute or 200 images per minute in color, grayscale, or black-and-white (A4/LTR, 200 dpi, portrait). Onboard JPEG compression is available for larger files for reduced transfer time to your PC.

3-line CMOS image sensor technology

The scanner employs dual 3-line CMOS contact image sensors for unrivalled document scanning speed, image sharpness, and tonal accuracy. Resulting images are true to the original document – free of unwanted color staining that affects conventional scanners.

3-step dust prevention method for clean, clear images

The DR-X10C combats paper dust with a revolutionary 3-step approach that prevents particles from accumulating and adhering on the sensor glass. This dust-free scanning system ensures that images are clear of artifacts while greatly minimizing the need for manual cleaning.

Dedicated, onboard image processing chip

The scanner maintains its high scanning speed even with multiple image processing functions selected thanks to hardware image processing. Functions are processed by the onboard chip rather than the connected PC for minimal speed deterioration.

Tough, durable construction

The robust DR-X10C features a solid body and durable roller system to handle the demands of production-level scanning. Its daily duty cycle is rated at 60,000 sheets per day. The motorized paper feed tray can be set to one of three height positions according to the volume of a typical batch, which helps minimize the wait time before scanning begins. Each position accommodates up to approximately 100, 300, and 500 sheets, respectively.

Functions

Superior Paper Handling and Reliability

The 500-sheet capacity DR-X10C features Canon's renowned high-precision roller system and page separation mechanism for reliable batch scanning in a variety of automatic and manual feeding modes. Multiple functions and built-in sensors ensure efficient, reliable handling and capture, plus strong protection against double feeds.

3 ultrasonic double feed sensors, with "multi-zoning" capability

Three ultrasonic sensors provide protection against double feeds by detecting and preventing overlapping pages from being fed into the scanner at the same time. Each sensor can be set to ignore or detect specified areas of a document to accommodate pages with labels or attachments.

All-new Double Feed Retry mechanism

In the rare event that a double feed occurs, the Double Feed Retry function returns the document pages to the feeder inlet and retries scanning up to three times before pausing document transport, dramatically reducing the need for operator intervention.

Dedicated sensor for document size and angle detection

While conventional scanners rely on their image sensor to detect a document's size and angle, the DR-X10C is equipped with a dedicated sensor for this purpose to provide exceptional Page Size Detection and Deskew accuracy and processing speed.

Staple detection sensors

Canon's Staple Detection feature automatically halts the scanning process when an unremoved staple is detected. Left undetected, staples could cause errors that compromise the document, cause jams, or damage the device.

Intuitive control panel and Job key

Start and stop scanning, select preregistered scan jobs, check displayed messages, and make select scanner settings using the control panel on the machine. Job functionality enables the operator to select and execute up to 99 preregistered scan jobs directly from the DR-X10C control panel without having to use a scanning application.

Various functions to improve scanning efficiencies and qualities

Wide range of intelligent image processing functions are equipped.
Please refer to the "Image processing functions" page for details.

CapturePerfect is a capture application software for the DR scanner series.
Please refer to the "Software" page for details.

Specifications

Type
Desktop sheetfed scanner
Document feeding
Automatic or manual sheet feeding
Document size
Width: 50.8 – 305 mm (2 – 12.01 in.)
Length: 70 – 432 mm (2.76 – 17.01 in.)
Document thickness and weight
Automatic feeding: 0.06 – 0.15 mm, 52 – 128 g/m2 (14 – 32 lb bond)
Manual feeding: 0.05 – 0.30 mm, 42 – 255 g/m2 (11 – 64 lb bond)
Feeding capacity
Up to 500 sheets of good quality paper (48 mm or less including page curl)
Scanning element
3-line CMOS CIS
Light source
LED (red, green, and blue)
Scanning side
Simplex / Duplex
Scanning modes
Black and White, Error Diffusion, Advanced Text Enhancement, Advanced Text Enhancement II
256-level Grayscale
24-bit Color
Scanning resolutions
100 x 100 dpi, 150 x 150 dpi, 200 x 200 dpi, 240 x 240 dpi, 300 x 300 dpi, 400 x 400 dpi, 600 x 600 dpi
Scanning speed*(A4/LTR, 200 dpi)
Portrait
Black and White: 100 ppm (Simplex) / 200 ipm (Duplex)
Grayscale: 100 ppm (Simplex) / 200 ipm (Duplex)
Color: 100 ppm (Simplex) / 200 ipm (Duplex)
Landscape
Black and White: 128 ppm (Simplex) / 256 ipm (Duplex)
Grayscale: 128 ppm (Simplex) / 256 ipm (Duplex)
Color: 128 ppm (Simplex) / 256 ipm (Duplex)
Useful functions
Job Function, Ultrasonic Double Feed Detection, Staple Detection, Selectable Background Color, Dust Countermeasures, Auto USB Power Switching, Auto Color Detection, Moire´ Reduction, Prevent Bleed Through / Remove Background, User Registration, Skip Blank Page, Auto Page Size Detection, Deskew, Batch Separation, Text Orientation Recognition, Black Border Removal, Punch Hole Removal, Folio, Long Document Mode, Color Dropout / Enhancement (R/G/B/Custom), MultiStream™
Interface
Dual Interface (SCSI-3 & High-Speed USB2.0)
Software
ISIS/TWAIN Driver, Job Registration Tool, CapturePerfect 3.0
Power requirements
AC 100V (50/60Hz), AC 120V (60Hz), AC 220-240V (50/60Hz)
Power consumption
Scanning: 125W, Sleep mode: 4.2W (AC 220-240V: 4.5W), Power Turned Off: 0W
Operating environment
10 – 32.5°C (50 -90.5°F), Humidity: 20 – 80% RH
Dimensions (W x D x H)
528 x 563 x 375 mm (20.79 x 22.17 x 14.77 in.), with trays closed
Weight
Approx. 39 kg (86 lb.)
Options
Pre-Imprinter Unit, Post-Imprinter Unit, Patch Code Decoder, Barcode Module III
Consumables
Exchange Roller Kit (Feed roller, Retard roller, Pick roller), Cleaning Sheets (30), Ink Cartridges for Imprinter (blue, red, or green)

* Maximum hardware speed. Actual scanning speed may vary depending on data transfer time and your system configuration.
Specifications are subject to change without notice.

Canon and the Canon logo are registered trademarks of Canon Inc. in the United States and may also be trademarks or registered trademarks in other countries.
imageFORMULA is a trademark of CANON ELECTRONICS INC.
Microsoft and Windows are registered trademarks of Microsoft Corporation in the United States and other countries.
Other product and company names herein may be the trademarks of their respective owners.
Adobe, the Adobe logo, Acrobat, the Adobe PDF logo, and Adobe Reader are either registered trademarks or trademarks of Adobe Systems Incorporated in the United States and/or other countries.