News Release
Aug 1, 2022

Sample night view images of Tokyo taken by the CE-SAT-IIB are available on SAKURA internet's Tellus satellite data platform

We are pleased to announce that sample night view images of Tokyo taken by our micro-satellite CE-SAT-IIB are available on Tellus by SAKURA internet Inc. (Headquarters: Osaka, Japan; Representative Director and President: Kunihiro Tanaka; hereinafter "SAKURA internet").

Users of Tellus can check and evaluate the images for free. Provided, however, that a separate contract is required for commercial use.

Satellite Data Platform "Tellus" :

https://www.tellusxdp.com/en-us/

URL of dataset :

https://www.tellusxdp.com/traveler/dataset/7fb15fbc-3abf-4d07-942c-127c085542e8/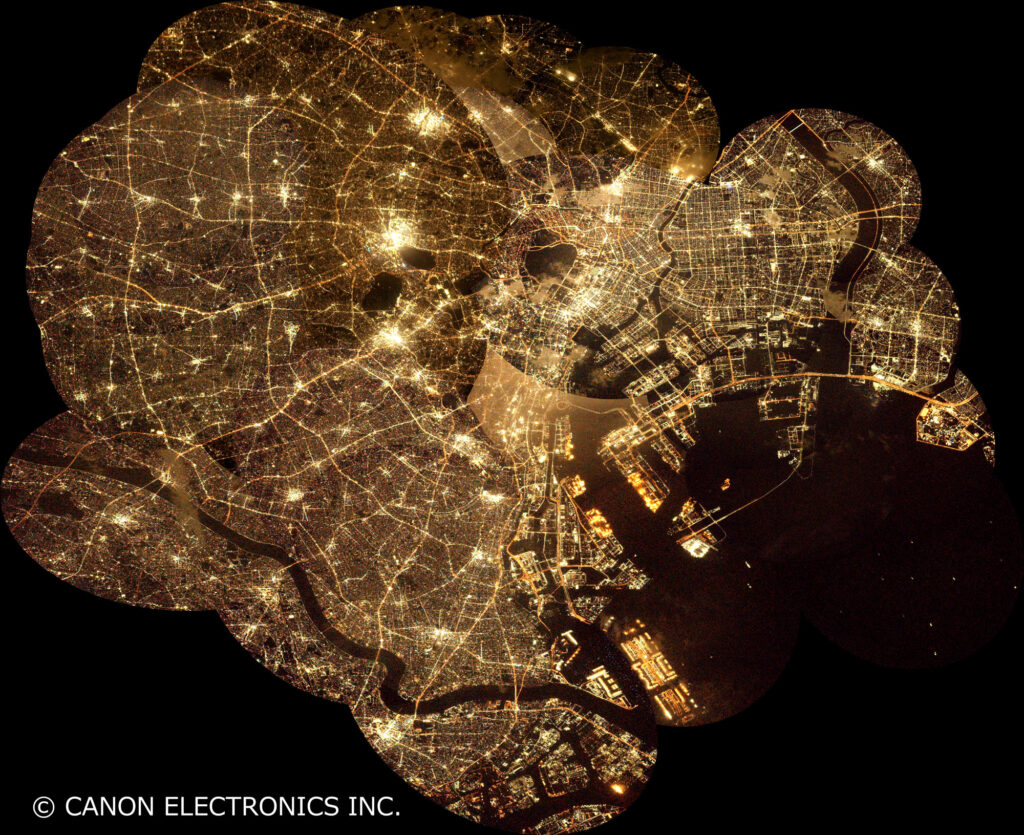 Nighttime mosaic image of Tokyo taken by the CE-SAT-IIB micro-satellite
(Our effort – Satellite Development)
We are working to develop products for the space market by mobilizing all of the Canon Group's technologies. We are promoting to create a system that can deliver reliable quality, supply, and services to customers engaged in space development.
(Why Tellus)
The images on Tellus were mainly taken in 2021 and 2022. The equipment we used was an Ultra High Sensitivity Camera attached to 200mm aperture optical telescope developed by us. The Ultra High Sensitivity Camera uses Canon's high-sensitivity CMOS sensor.
This setup offers a relatively high ground resolution of approximately 5m GSD* for nadir view and good nighttime sensitivity. From an orbital altitude of 500 km, structures illuminated by streetlights and buildings and cars can be seen. Optical filters are RGB 3-band.
* Ground Sample Distance
Bright night satellite images with multi-meter resolution are still rarely available around the world. We would like you to enjoy our new efforts through Tellus.
For customers who wish to evaluate the product in an on-premise environment, a sample image license agreement is available, please contact us.
Aside from queries related to imagery, the same contact can also be used for inquiries regarding satellite systems, optical systems, and satellite manufacturing.
<Contact Information>
Satellite Strategy Development & Operation Div.
CANON ELECTRONICS INC.
【Reference】
(Canon Electronics' Satellite-Related efforts)
For a total of six years, we have been evaluating two satellites to verify the performance of the Canon Group's telescopes, imaging equipment, sensors and actuators. Recently, in addition to further improvements in space optics and imaging technology, we are working on the development of a highly accurate attitude control system assuming next generation free space optical communication satellites.
About Component Sales
https://en.canon-elec.co.jp/space/
(CE-SAT-IIB)
CE-SAT-IIB is the third of our satellites. It is a micro-satellite with a mass of 35.5 kg and a size of 292 mm × 392 mm × 673 mm, and was launched into a sun-synchronous orbit at an orbital altitude of about 500 km by Electron rocket from New Zealand at the end of October 2020. Our optics, attitude components, onboard computers, and power control equipment are used on this satellite. In addition, Canon's EOS M100 and PowerShot G9 X Mark II consumer digital cameras are also on board for Earth observation as well as astronomical observations.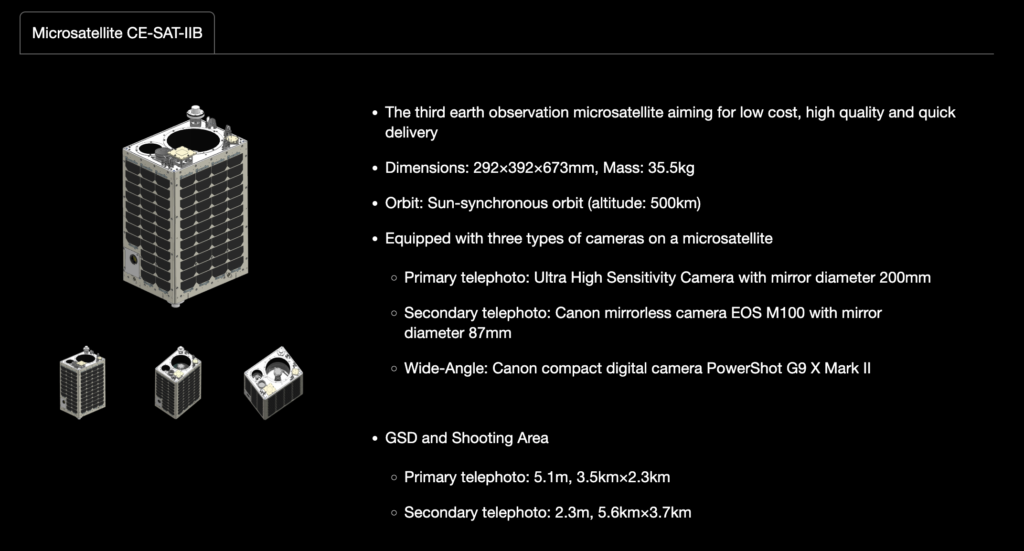 References:
https://www.canon-elec.co.jp/news/post-5199/#post
https://www.canon-elec.co.jp/news/post-5221/#post
https://www.canon-elec.co.jp/news/post-5638/#post
(About the satellite data platform "Tellus")
Tellus is the Government of Japan's data platform to democratize Japanese national satellite data with user-friendly environment. Tellus is not only an 'open and free' data platform in Japan, but also collects a panoply of data all over the world, including information that can be acquired from satellite.
The name "Tellus" is taken from "Tellus," the goddess of the earth, to express the company's desire to create a prosperous future with ground-based data obtained from space.
Tellus Website
https://www.tellusxdp.com/en-us/
< Contact Information >
Satellite Strategy Development & Operation Div.
CANON ELECTRONICS INC.