News Release
Nov 9, 2022

Canon Electronics released the satellite image of the drought in the Valdecañas Reservoir in Spain by CE-SAT-IIB

Europe is experiencing a drought that is said to be its worst in 500 years due to a record heat wave. The drought has also caused a significant reduction in water storage in the Valdecañas Reservoir in Spain. Our micro-satellite, CE-SAT-IIB has captured the situation.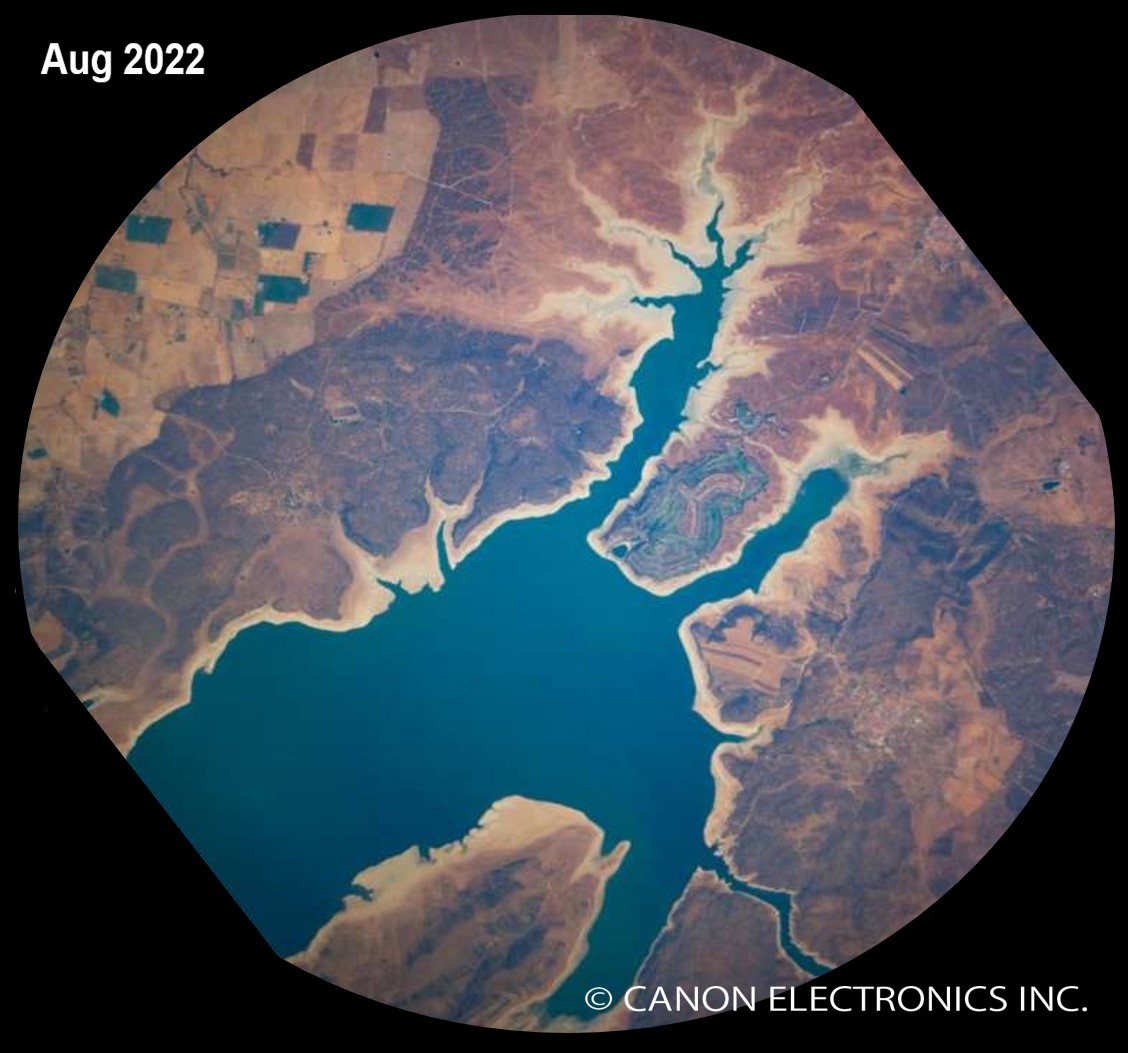 Comparing an image taken by Sentinel-2, a land observation satellite of ESA (European Space Agency) in April 2022 with those taken by CE-SAT-IIB in August 2022, we can see that the water storage in August was even lower.
Copyright: Copernicus Sentinel data [2022]/ESA
Image of the Valdecañas Reservoir taken by Sentinel-2 in
April 2022
Image of the Valdecañas Reservoir taken by CE-SAT-IIB in
August 2022. You can see the drying up, especially in the
areas marked in red.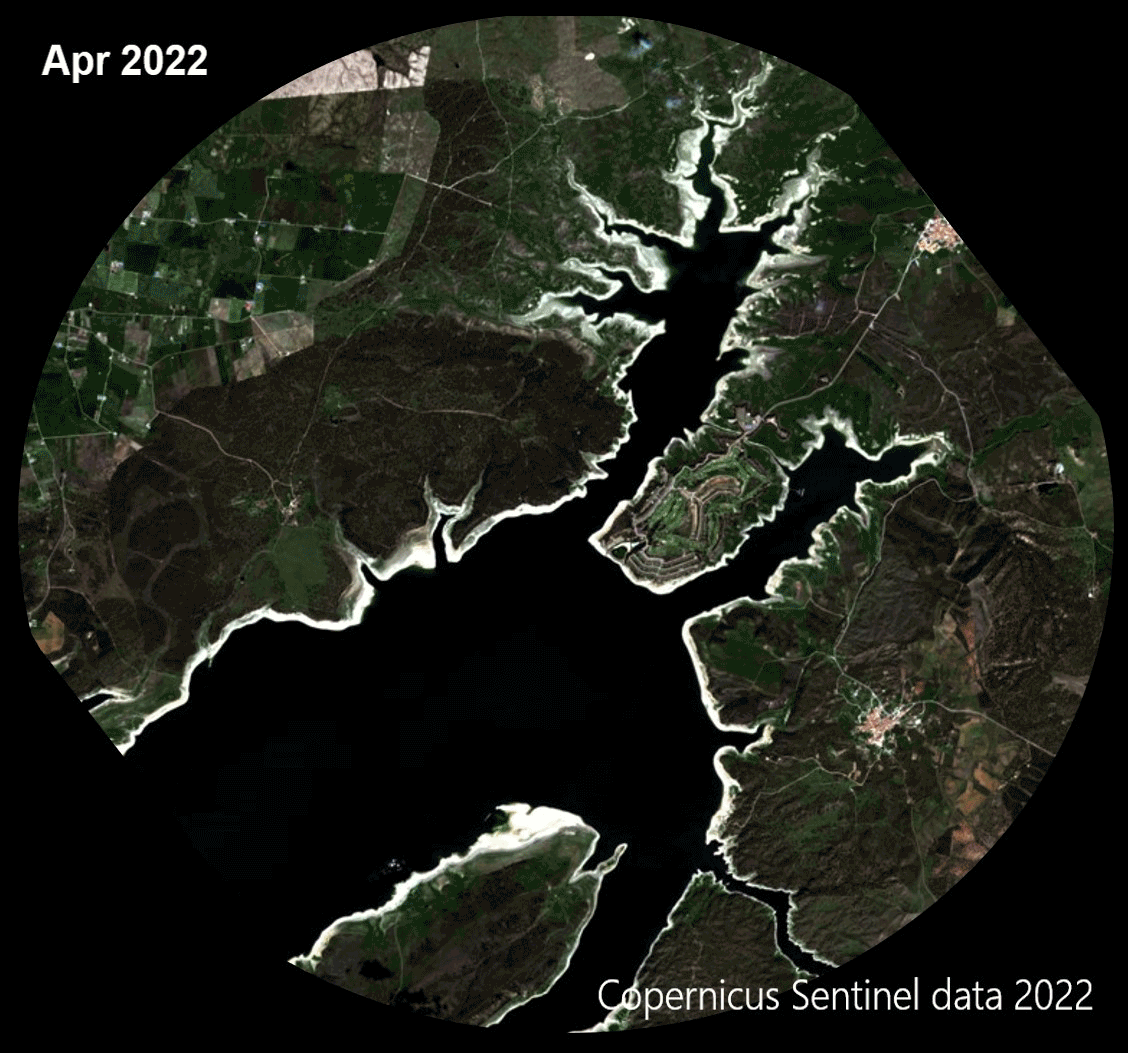 GIF of images by Sentinel-2 and CE-SAT-IIB
 By changing the composite ratio of the two images, you can see how the water is drying up.
Satellite : CE-SAT-IIB
Telescope: Our 87mm aperture telescope
Camera:Canon EOS M100
Orbital altitude: Approx. 500 km
Image photographed by Seiji Ohki (Canon Electronics Inc.)
GIF created by Yu Takano (Canon Electronics Inc.)
As in this case, satellites help long-term monitoring of the Earth's environment.
Recently, with the increase in the number of satellites and the ability to acquire images more frequently, it has become possible to quickly grasp the situation in time of emergency, such as natural disasters.
By using the Canon Group's cutting-edge optical imaging technology for satellites, Canon Electronics has achieved high ground resolution not only in daytime images but also in nighttime images.
Contact for sales of CE-SAT image data to our distributor "RESTEC".
<Contact Information>
Remote Sensing Technology Center of Japan(RESTEC)
URL:https://www.restec.or.jp/solution/product/ce-sat.html
 Canon Electronics is also trying to promote the use of satellite data for various analyses, including observation of environmental issues and natural disasters.
If you would like to evaluate our products in an on-premise environment, please contact us for a license agreement of sample images. Furthermore, to promote the use of satellite data, we would like to share more images of various events around the world captured by our satellites.
Our space division is developing reliable products for space applications by fully mobilizing the Canon Group's technologies.
Please contact us for any questions such as imaging, solutions using satellite technology, satellite and optical systems, and manufacturing.
Satellite Strategy Development & Operation Div.
CANON ELECTRONICS INC.
Contact Form >